AX-100
The AX-100 is an economically-priced but multi-featured ECR that operates stand-alone to provide a complete system at the point of sale. Providing unrivalled value, the AX-100 meets the needs of your business by enabling you to choose which of its advanced information, security and control functions suit your requirements.
You can even choose to connect your AX-100 to PC for yet greater power and functionality. Despite its surprisingly low cost, AX-100 is built to exacting standards and is available with space-saving compact drawer or standard –heavy-duty drawer with a slot for 'posting' banknotes, cheques and credit card slips. Suitable for owner-operated shops, kiosks, cafés and bars.
Features include:
Double-sided display
Up to 16 Departments with alpha printing on receipt
Up to 200 Price Look Ups
Up to 10 Staff by ID code number
Customisable keyboard (any button in any position)
Fast, silent 58 mm thermal printer (no ribbon, so print never becomes faint)
Automatic paper loading - no jams
Alphanumeric 5-line logo message for your store name
Excellent Reports for Management, simple, easy to read.
Available in large or small drawer variants.
Keyboard wetcover available for bar use
PC Communications programmable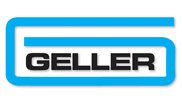 AX-100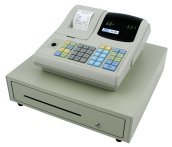 Large Drawer Model
AX-100, Ideal entry level cash register, feature packed & low maintenance available in small drawer model also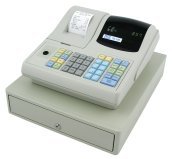 Small Drawer Model
SX-580
Big system features and an attractive, low profile make the SX-580 a seriously smart choice for modern retailers.
Alphanumeric front and rear displays, 57mm 'drop and load' alphanumeric receipt/audit printer, with graphic logo.
Can link to scanner and/or PC. With space saving, low profile design and option of remote cash drawer, SX-580 is loaded with desirable features at a surprisingly affordable price.
SX-580's programme is stored in non-volatile, flash memory, enabling you to select just the options that suit your business. SX-580 is available with a choice of flat or raised keyboard. It can link to back office PC and sales and management software if required.
SX-580's memory can hold up to 5,000 sales items as Price Look Ups. You can enter sales manually on the keyboard by registering the Price Look Up number. You can also scan barcoded items for high-speed sales.
A range of low cost barcode scanners is available for the SX-580. Barcode names and prices can be entered via a PC. SX-580 can also 'learn' barcodes. If you come across an unprogrammed item (even in the middle of a sale), the word 'Price' displays on the screen. Enter the price and department and subsequent sales of the item will scan automatically showing the price and department name.
Features include
Several staff can use the SX-580 at the same time, avoiding queue build-up
Up to 4 scrolling messages display promotions or information to your customers between sales. Messages can change automatically by pre-programmed time
5,000 Price Look Ups Stand-alone scanning for up to 5,000 sales items with simple price and product maintenance and barcode learning feature
Price Check Feature - prices can be checked at the payment point by pressing Price Check Button and scanning the item
Compulsory Staff ID
Space saving design with option of remote cash drawer
Training Mode for new staff
Graphic logo
2 RS232 communication ports for barcode scanning and/or linking to back office PC
Money Lift Alarm warns when cash in drawer exceeds pre-programmed amount
Drawer Open Alarm
Age verification feature for cigarettes and alcohol sales
Password protection for staff and management Management control for security sensitive operations.
Quick Tender Keys (£5, £10, £20, £50) for speedy change giving
Choice of Totals Only on Journal
Enforced Cash Declaration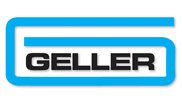 SX-580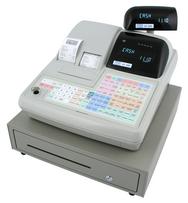 Modular design, drawer can be seperated to install below counter for ultimate security.
Available now in black, with raised or flat keyboard for both retail & hospitality use.
SX-580, Heavy duty machine, loads of features, programmable keyboard, 2 station thermal graphic logo enabled printer, will issue receipts & keep a running journal!
A Superb machine!